Average office occupancy levels in the UK fell by over ten percentage points, from 20.8% the previous week, to 10.7% in the week ending Friday 17 December, the lowest figure recorded since June, according to the latest data released by Remit Consulting.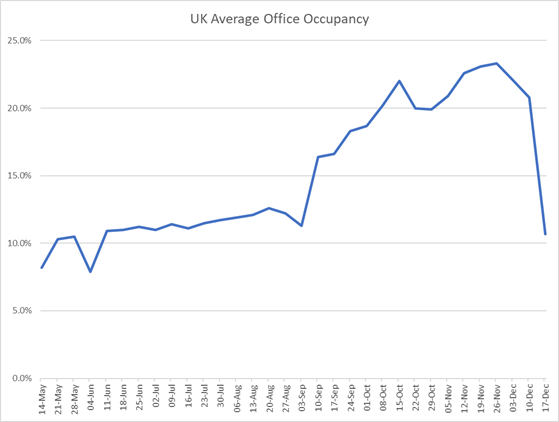 The firm's Return Report reveals the volume of office-based workers in the week following the Prime Minister's announcement (December 8th) outlining additional Covid-19 restrictions, including the guidance for people to 'Work from Home' if possible.
"The start of the school holidays and the Christmas break means the fall in the number of people working from the office was to be expected. However, the extent of the drop means that last week, there were fewer people in the office than during the summer holiday period," said Lorna Landells of Remit Consulting.
"This dramatic fall will be of worry to business occupiers and property owners alike, though not unexpected.
"The mixed messages from the Government, combined with the feelings of trepidation surrounding the Omicron variant, have caused further uncertainty for businesses and staff," she added.
Remit Consulting's research on office occupancy also tracks the levels of car parking and visitor numbers for the buildings in the survey, both of which also showed sharp falls for the week ending 17 December.